Many of these links include our affiliate link which does not increase the price for you 🙂 They are ALL personally recommended by us and our experienced eCommerce partners. If you are an existing DSD or INFINii member, please contact your team leader for links to purchase from 🙂
INFINii
Join the INFINii Team Ninjaz and get your eCommerce business off to the best start! Full training, 24/7 support and loads of team resources. Largest international INFINii team – we have team leaders in countries all over the world – ask us! Join here: www.ecomninjaz.net
DS Domination
DS Domination has been around for over 2 years and our members have been responsible for over 2.4 Billion dollars in sales over that time! We are founding members of DSD and will always be DSD members. The best dropshipping training STILL only $20! Join here: www.dsdbiz.com
Honey
Save money with HONEY!. This free Chrome extension automatically alerts you when there are coupons and discount codes to apply to your online purchases at checkout. Don't shop or fulfill INFINii & DSD orders without it! Our favorite tool!

Jungle Scout Amazon FBA Tool
Jungle Scout is a Chrome extension which literally saves you hours in product research. It automatically pulls BSR stats, seller data, review reports and estimated sales and revenues of all the products displayed in an Amazon search. Don't research manually, this tool is a must have for serious sellers.

Be Frugal Cash Back Website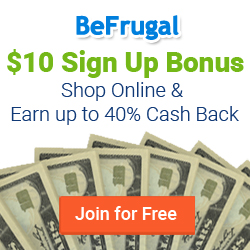 Be Frugal is the most international friendly cash back site we have found! Simply join for free and shop through the BeFrugal links when you have to fulfill orders.
Raise.com
Don't checkout online until you have bought a discount gift card to save you money! Increase your profits by combining a gift card from Raise.com and a reliable cashback program like BeFrugal. Stack the discounts!

RetailAzon
RetailAzon is a browser extension to easily find profitable items to drop ship on Amazon. Search many suppliers and it will show the price difference without having to click on each item!
AMZTracker
AMZTracker is the best software to skyrocket your amazon sales! Simple keyword rank tracking,spy on competitors sales, tools to improve rankings plus a LOT more!
Top Cash Back
Topcashback is another great cashback site – get cash back for shopping on eBay!
ASINspector
ASINspector streamlines your product research. Extract rank, sales volume, estimated revenue, find out where it is being sold on other sites, source product and more. Similar to Jungle Scout but it has a one-off payment.
SKUGrid
SKUGrid – Price Monitor & Repricer is an essential tool for any professional eBay or Amazon seller. Tracks items from over 50 suppliers! Free trial.
Paribus
Paribus protects your purchases!If you are in the eCommerce game, don't ever feel annoyed when the price of an item goes down. Use Paribus to protect yourself!
DS Amazon Quick View
Handy DSD Chrome extension to add amazon ranking to the search page.
FBA Toolkit
The FBA Toolkit provides free tools to track and analyse your Amazon FBA products.
Amazonia Right Click Search
The Amazonia Right Click Search – quickly search product from eBay to Amazon with the click of a mouse on the Chrome Browser. There is a UK version also. Find a product on eBay, highlight the title, right click and it will search Amazon to give you instant results!
Google Trends
The Google Trends shows you was keywords are trending.
Keepa
The Keepa Chrome extension shows how the price and rank developed in the last few months. Keepa also has a page with the biggest daily price drops for deal hunters.
CamelCamelCamel
Camelcamelcamel is a free Amazon price tracker that monitors millions of products and alerts you when prices drop, helping you decide when to buy.
Logos and Graphics for Branding FBA Products
For quality graphics, order a range of different services from Logonerds. They offer professional logos, full Facebook graphics, business cards, Twitter backgrounds, postcards, flyers and much more!
RoboForm
Roboform is a password manager and form filler that safely protects your computer passwords and allows you to log into web sites automatically. You no longer have to remember multiple passwords for your drop shipping business or worry about your passwords being lost or stolen.

Awesome Screenshot
Awesome Screenshot is a handy screenshot extension for Chrome, Firefox & Safari. Capture the whole page or any portion, annotate it with rectangles, circles, arrows, lines and text, blur sensitive info and save it to a file or upload it to a temporary url for easy sharing. Great for troubleshooting. Perfect for when you need to take a screenshot of an item to list on eBay.
Pic Monkey
Pic Monkey is a free online photo editing tool. Use it to quickly resize a photo, add a border and save your product images to upload to eBay.

Ebates
Ebates is a another great cashback site that is free to join. Get coupons for Sears, Walmart & Overstock.
Amazon Best Sellers
The Amazon Best Sellers List helps find all the top selling products on Amazon and get ideas on products to private label.